AEDs & CPR Save Lives. I Am Living Proof Of That.
By Mark Malekoff
On April 2nd, 2017, I survived a Cardiac Arrest.
I was playing hockey at the Kev's Kids Charity Hockey Tournament. During the last period of the final game, I started feeling light headed, my chest was pounding, and I couldn't catch my breath… all the signs of something wrong, but I shrugged them off as I was battling a sinus cold and figured it "wasn't a big deal."
Also, with no previous heart-related issues, or any previous family history of heart issues, and being a pretty healthy individual (former hockey player for Grande Prairie Storm and Michigan Technological University and also a former CrossFit regional athlete) not once did it cross my mind that it was something serious.
After the game, back in the dressing room, the symptoms got worse, and I eventually collapsed. I had two teammates left in the room with me, Kevin Bjornson and Chad Goldie. They put me in the recovery position, but then I turned blue and was barely breathing…
I was suffering from cardiac arrest – the abrupt loss of my heart's function. My heart was in ventricular fibrillation, a lethal heart arrhythmia. It wasn't a heart attack but was a malfunction in my heart's electrical system.
Only about 8-15% of cardiac arrest victims survive, however if an AED is put on within the first minute, the survival rate is 95%. Each minute that passes, the survival rate drops by 7-10%.
Nicholas Cross and Rob Short, two players on the other team, heard the commotion and joined Kevin and Chad. I received CPR, and an AED was retrieved from the lobby. I received a shock from the AED, which brought my heart out of the ventricular fibrillation arrhythmia, but then my heart went into a less dangerous, but still potentially harmful arrhythmia, ventricular tachycardia. CPR continued while the AED continued to monitor my heart but did not deliver any more shocks. The paramedics then arrived, and I was shocked again, cardioverted, in the ambulance on the way to the hospital.
I woke up in the hospital, very out of sorts, with a very sore chest. I ended up spending a total of 2 weeks in the hospital, here in Grande Prairie and Edmonton, doing more tests. There was no permanent damage, my heart's mechanics are totally healthy, but yet I had this episode. I was given a diagnosis of idiopathic ventricular fibrillation, which means there is currently no reason why this event happened.
As a result of this diagnosis, I received a Boston Scientific S-ICD. This device will protect me in case this was to happen again.
My story is tremendously fortunate, however not all cardiac arrest victims are so fortunate…
In May 2012, Brock Ruether, a 16-year-old Fairview, AB high school student, collapsed and died while playing volleyball, Brock's parents – Kim and Wayne Ruether – created Project Brock in his memory with a goal of having an AED in every school in Alberta and to raise awareness of cardiac arrest.
I am tremendously thankful that God had the right people and technology available in my situation. I am so thankful for Kevin, Chad, Nick and Rob and the actions they took to save my life. I wanted a way to say thank you, but what do you get someone that saved your life??
I decided that I wanted to support Project Brock's goals and would donate an AED to a school on behalf of Kevin, Chad, Nick and Rob. I spoke with Kim Ruether and the Regional EMS Foundation, and it turned out that the new school in Royal Oaks, the Roy Bickell Public School, was looking for a sponsor for an AED for the school. Perfect! 
Last night we had a get-together, and I shared my idea with the guys, and we took this great picture.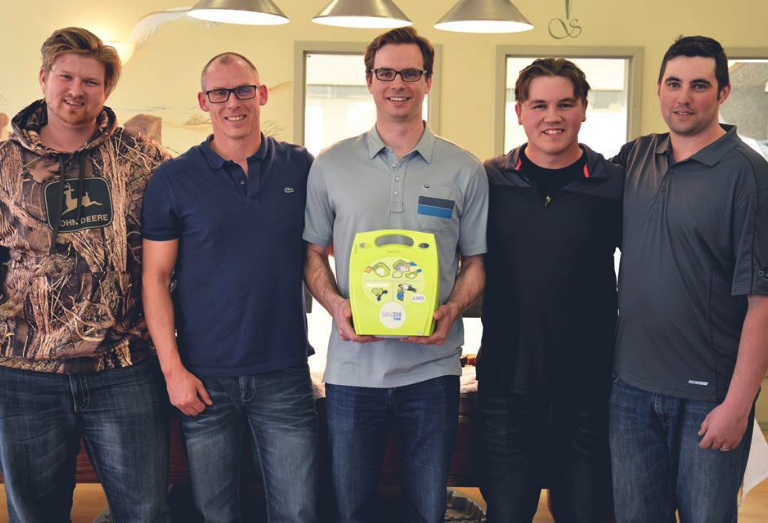 This is the actual AED that will be placed in the Roy Bickell school, and there will be a plaque placed next to the AED with the guys' names commemorating their efforts and my fortunate story.
Not to sound cliché, but this incident has definitely given me some perspective. I encourage everyone to hug their loved ones and also inform them about CPR and AED's and why they are important.
Every year in Canada, there are 40,000 cases of cardiac arrest, about one every 12 minutes, and you never know, it could be a family member or friend's life you're saving, or your own getting saved.
And so, thanks again to Kevin, Chad, Nick and Rob, and everyone else involved with this incident and saving my life. Steph, Mari and I, and our families are so happy, so grateful and thank God for this blessing each and every day.
AEDs and CPR save lives. I am living proof of that.
To Donate to Project Brock click the banner below.

Mark Malekoff is the Owner of TriTech Safety and Training and President of NAKODA Energy Services.